Our story
THE START OF A NEW BEGINNING
Fabrik Hair Studio is a new and innovative full-service hair salon that combines luxury and artistry to deliver bespoke services to the Durham Region. Built on a foundation of ethics, integrity, innovation and passion, Fabrik Hair Studio provides an inclusive environment that celebrates culture, diversity and individuality.
With over 20 years in the beauty industry, our team is committed to providing unparalleled service and hair artistry, bringing you the latest trends and techniques in hair fashion, and elevated offerings in hair care. Fabrik offers an exclusive collection of hair care brands and integral products that are vegan, cruelty-free and gluten-free, with clean beauty ingredients and sustainable packaging.
We are proud partners with Green Circle Salons; a company committed to creating change in our industry by diverting salon and spa waste from landfill and waterways. We strongly believe in sustainable solutions to help reduce our carbon footprint and support the health of our team, guests, and environment. By implementing daily sustainable practices for repurposing, recycling, and capturing 95% of salon and spa waste, we are helping to make a positive difference to keep our planet beautiful.
We look forward to welcoming you to Fabric Hair Studio.
DOWNLOAD THE NEW FABRIK APP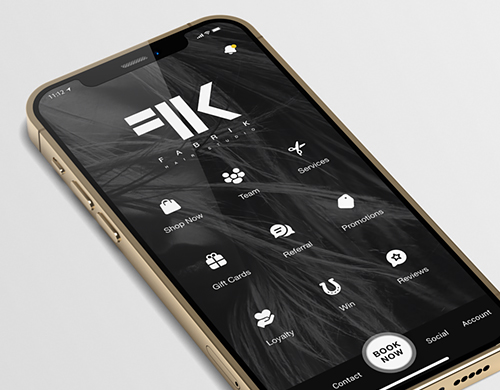 FIND ALL YOUR HAIR AND SKIN CARE NEEDS IN ONE PLACE
THIS IS THE BEGINNING OF A BEAUTIFUL FRIENDSHIP!
FABRIK HAIR STUDIO invites you to experience our best-in-class service.
Receive $20 off your first service with us.
This offer is valid for new guests only and with select service providers, limit one per person.
Click below for your code!
We are a team of extremely passionate beauty and wellness professionals who pride ourselves in providing our guests with the best in beauty. With education as the foundation of our business, our talented team are highly trained experts of their craft who are committed to excellence. We are always looking to grow and invite you to join our family. Whether you're passionate about product, people, hair, skin or makeup we have a place for you. Contact us to learn more about career opportunities. Please include a copy of your resume, job preference, and availability.
Email [email protected] with the subject line 'I want to join the FABRIK FAMILY', and please include your name, email, position you are interested in along with your resume.
We currently have opportunities for the following positions:
Customer Service Representative
As a Retail Advisor, you will be responsible for ensuring smooth and flawless location operations in order to provide a premium experience for guests and team members. Customer experience is a key mandate of this role and a desire to develop and maintain relationships with guests.
Hair Salon Assistants
A unique opportunity exists as a stepping stone into the salon industry. In the role of Hair Salon Assistant you will deal directly with guests, obtain education and acquire skills to become a qualified service provider.
Stylists/Colour Technicians
As a Hairstylist you will be servicing guests in a busy salon environment and obtaining continuous education while working as a key member of our growing salon team. This position will involve delivering high levels of guest service experienceswhile developing important relationships.
TUE/WED        9AM – 8PM
THUR/FRI       9AM – 9PM
SATURDAY      9AM – 5PM
SUN/MON       CLOSED
Address
2630 Simcoe Street North
Oshawa, Ontario
L1H 7K4